Local Web Design
Friday, April 21st, 2023
We have found that people continue to use, refer and recommend WebLeaps because of who we are as people.
Our relationship is more than our business and your business. When we partner together, we create a type of business relationship that is rare these days. We not only get to know your business, but also you. It is because of who we are, but also because we know that it will help us form a creative vision for your website based upon you and your company, instead of creating a plain website that has no feeling put into it. It is the same way that you can have 2 meals cooked with the same ingredients and instructions by 2 different people, yet one meal is significantly better.
When we design a website for you and your company that is the difference that you are receiving. You are not just some random person or business that is here today and gone tomorrow. It is why when you call, we know you, your website, your business, and can typically answer or resolve your issue quickly. There is no need to speak to someone in the design department, or a level 3 hosting technician.
It is just business done and run the right way. Come experience the WebLeaps difference.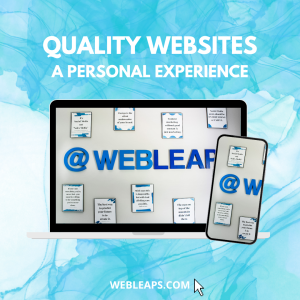 ---