Spam, Scam, or is it Real?
Wednesday, August 23rd, 2023
We always tell our clients to feel free to forward us emails if they are not sure if they are spam or not. At WebLeaps we'd rather take the time to reassure you that your domain name actually isn't expiring or your email is not actually full, and that they are just spam emails, instead of you potentially getting a virus.
Unfortunately, we get a lot of spam ourselves. Quite often it is from people trying to sell us website services, or to redesign our website. We usually get a good laugh because it is the equivalent of your own customer coming up to sell you the product that you sell.
You have a cupcake shop? Want to buy some cupcakes?
You paint for a living? Do you need your home painted?
You fix cars? Does your car need repairs?
You design websites? Do you need your website redesigned?
It goes to show just how little research some companies do when sending spam emails. For example, we recently received an email that said "I sent you an email a few days ago regarding WEB DESIGN service. Let me know if you are interested, we will send you our Packages and price list."
Quite often, spammers will take it a step further and use scare tactics – your website is not showing up on Google, your domain name is going to expire, etc.
At WebLeaps we provide peace of mind. You can choose to have your website hosting, emails, and domain with us so that we are your one point of contact. That gives you peace of mind that any phone calls, email or even snail mail that you get is most likely just a scam – but we are always available to check on your behalf too.
Contact us today to see the WebLeaps difference: www.WebLeaps.com / 570.629.6980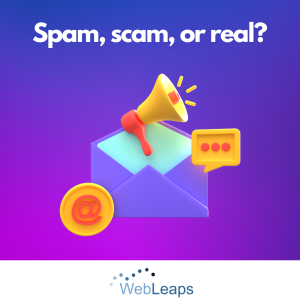 ---