Responsive Website Design
Tuesday, February 8th, 2022
Do you know if your website is a responsively designed website?
Is it "Mobile Friendly"?
Can you make a non-mobile website a mobile website?
Read below for the answers to these questions.
What Is Responsive Website Design?
Responsive Design is a way of designing a website so that it looks great on desktops and laptops, as well as smaller devices like tablets and smartphones. Responsive design is not a popular fad or add-on, it is a newer way of designing websites and the gold standard for building any new website. If your current website is not responsively designed you may be getting penalized in search engine rankings for mobile searches.
Unfortunately an existing design cannot simply be reworked to make it responsive, as the code is completely different. It uses the code to determine what size resolution your device is using, whether a desktop, tablet or mobile device and then scales the website to that size for optimal viewing.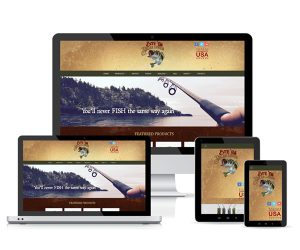 How can I tell if my website is responsive?
One of the quickest ways is simply to go to your website on your phone. When you visit your website is there a horizontal bar at the bottom that you need to use to see all of the content? Can you see your website without scrolling to the left or right? If you need to scroll left to right this is a tell-tale sign that your website is not mobile friendly. There are also various tests that can be done, but the easiest thing to do is just contact us. We can take a look at your website and let you know right away whether it's responsive or not.
Previously, if you wanted a "mobile website," you had a website built and a second website that was created only for mobile users. The problem is that many times mobile websites cut out key features with no way for your customer to access the full website. A responsively designed website is the same exact website, with all of the same content, features, and images. Instead of just scaling down the website, which can lead to small font sizes and a lot of scrolling, a responsive designed website can stack elements making for an ideal mobile and tablet browsing experience.
You can view our portfolio for some samples, or call us today at 570-629-6980 to discuss having a responsively designed website created for your company.